WINGS Sports
(Our Television Show)
WINGS Sports" is our highly rated television show with in-depth reports on New England's top sports teams, players and personalities. WINGS Sports has aired on various television and cable stations throughout New England.

WINGS Productions was selected to videotape the Ted Williams - President George W. Bush interview. We taped this exclusive interview in Manchester, New Hampshire on January 18, 2000 at the 2000 New Hampshire Baseball Dinner.
The "one on one" interview our show host, Mike Montecalvo, did that day with George W. Bush was the first television show in Southern New England to conduct an interview with President Bush. The above picture was taken from that interview This interview and others WINGS videotaped that day have been broadcast on various broadcast and cable stations throughout Connecticut, Massachusetts, New Hampshire and Rhode Island.

Our "Ted Williams - George W. Bush interview show has been mentioned in various newspaper articles, television shows and radio station programs throughout the country. One of the newspapers the show was mentioned in was the Friday, January 14th edition of "USA Today".
<![if !vml]>
<![endif]>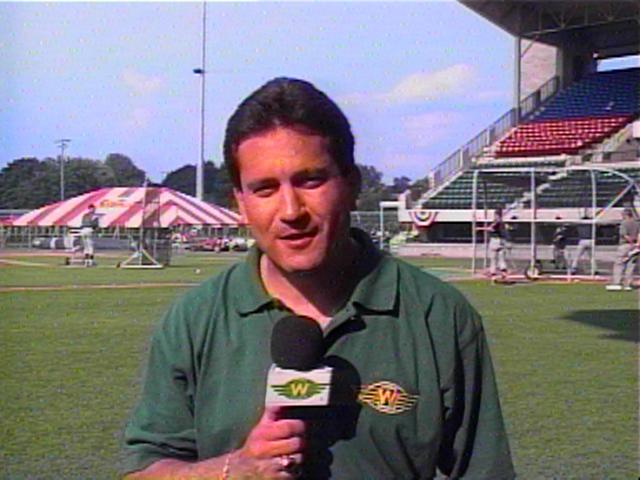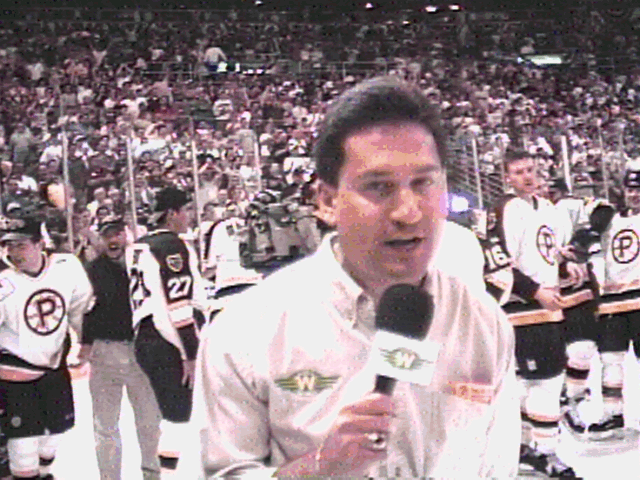 Mike Montecalvo, as the host of WINGS Sport. Montecalvo was the popular local radio announcer on WHJY 920 Radio for the "IMUS in the Morning Show". Mike is now a morning news announcer on CBS Channel 12 in Providence. Other hosts of WINGS Sports include: Roger "The Sport" Letendre; fitness model, Dawn Butterfield and former Miss Rhode Island, Kelly Roarke.
WINGS Spots covers New England professional teams like the New England Patriots, Boston and Providence Bruins, the Boston and Pawtucket Red Sox, the New England Revolution, the Rhode Island Stingrays and the New Hampshire Phantoms. In addition, the show also covers New England colleges and high school teams along with other local sporting events.
______________________________________________________
WINGS Sports has received high TV ratings in the Providence market!
WINGS Sports has out-delivered or tied a wide variety of youth and teen-oriented fare,
including the entire WB Kids block on WLWC.

Station Program Time Period HH RTG / SHR
69 WPXQ WINGS Sports 9-9:30am 0.5/2
12 WPRI Birdz (CBS) 9-9:30 am 0.2/1
28 WLWC Men in Black 9-9:30 am 0.3/2
12 WPRI Flying Rhino (CBS) 8:30-9am 0.5/2
28 WLWC Student Bodies 6-6:30am --/--
28 WLWC Monkey Magic 6:30-7am 0.3/2
28 WLWC Malibu, CA 7:30-8am 0.2/1
28 WLWC WB Kids Block 8am-12n 0.3/2
12 WPRI Nick News 6-6:30am --/--
64 WNAC Beast Wars 6:30-7am 0.2/1
64 WNAC Lionhearts 7-7:30am 0.3/2
64 WNAC Bannas Crayon Box 7-7:30am --/--
6 WLNE Peer Pressure 7-7:30am --/--
6 WLNE Field Trips 7:30-8am 0.5/2
___________________________________________________________
In another rating done, WINGS Sports beat or tied one of the major networks
in four out of five weeks in a row.
WINGS Sports tied 28 WLWC WB on 1-9-99
WINGS Sports beat 12 WPRI CBS on 1-2-99
WINGS Sports tied 06 WLNE ABC on 12-12-98
WINGS Sports tied 06 WLNE ABC on 12-5-98